Canadian Wollastonite is now available in retail formats as CW Grow
Canadian Wollastonite is now available in retail centres and landscape depots
As the environmental benefits of wollastonite continue to accumulate, especially around carbon capture, we developed a retail brand to bring the benefits of Canadian Wollastonite into broader markets. CW Grow is now for sale in Eastern and Central Ontario at retail stores and in a unique bulk format at agricultural and landscape depots.
CW Grow 10 kg bag label & website:
 
CW Grow is also available in a unique bulk format distribution model
CW Grow is also available in bulk shipped by the truckload from the mine site to landscape depot, greenhouses, farm supply stores and related businesses. The truckload is placed in front of the banner below to offer a flexible, high-value retail opportunity for sales from 15 kg to multiple tonnes. CW Grow bulk ships direct from the mine and is placed in a retailer yard offering a flexible product sold bulk, delivered, or in CW Grow branded self-fill bags. 
Large banner (4x8ft) used behind the pile of bulk wollastonite: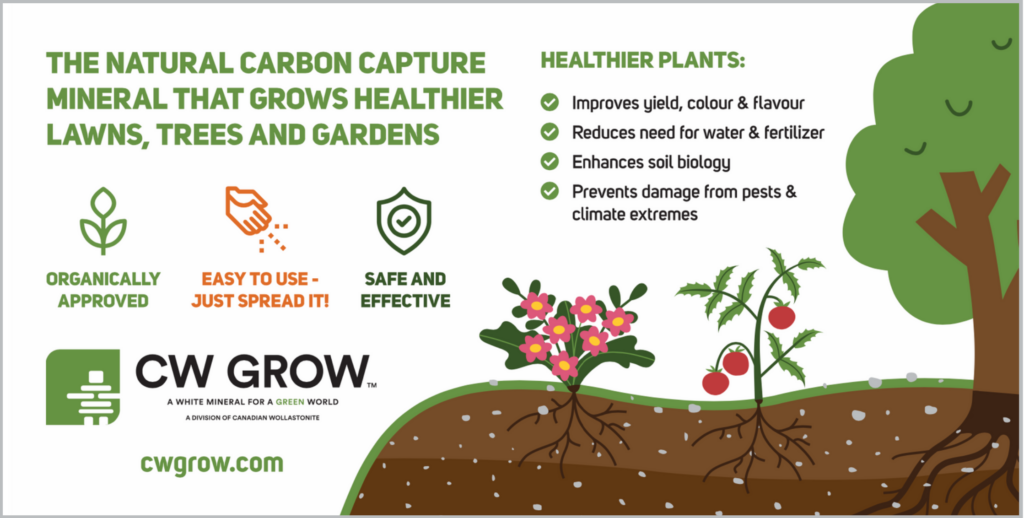 CW Grow bulk provides an excellent and cost-effective sales model. Our goal is to have more wollastonite on soils in urban and rural areas to capture carbon and grow healthier plants with ease. Get in touch if you want to know more as we continue to move forward with an industry-first sales model.